Welcome, AzureSN!
[
]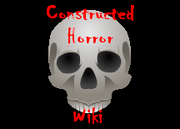 Welcome to Constructed Horror, a Creative Wiki, and thank you for your contributions! There's a lot to do around here, so we hope you'll stay with us and make many more improvements.
Your Userpage is a great starting point in the wiki. Go ahead and create your userpage and let people know who you are!
Recent changes is a great second stop, because you can see what pages other people have been editing, and where you can help.
The Useful Pages category is great for finding other pages and useful templates!
The Featured Articles History is also great to look at examples of good articles who have been featured on the main page!
Questions? You can ask at the Help desk, on the "discussion" page associated with each article, or post a message on my talk page!
Please sign in every time you edit, so that we can recognise you!
Start Right Now! You can start creating pages right now! Just input the name of the article you want, and get started!
<createbox>

width=30 </createbox>
Hey Azure! Nice to see you've joined up. Since I know you are a trusted Wikia guy, I'll give you a little set of ... 'moderator privileges'. You also get added to the ConHorror Council as an officer. Don't make me regret it dood.
AzureSN, Congrats!
[
]
AzureSN, your article, The Rapture, is being featured on the main page! You must be proud, eh? Keep up the good work editing those pages and creating new ones, and you can expect to see more of your brilliant work hitting the main page!
Congrats again,
Noice work mate! Glad to see you're getting into ConHorror! Your two articles are pretty good, and I expect to see more articles hitting the count and on the main page.